2010 Upper Deck World of Sports All-Sport Apparel Mem #ASA49 Nicky Polanco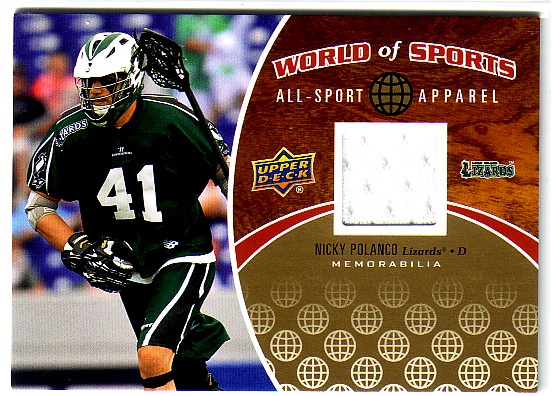 Front
Sport:

Multisport

Set:

2010 Upper Deck World of Sports All-Sport Apparel Memorabilia

Year:

2010

Card#:

ASA49

Player:

Nicky Polanco

Attributes:

Memorabilia

Manufacturer:

Upper Deck Co.

Grading Company:

Raw Grade

SetType:

Insert

Item Condition:

Near Mint/Mint

2014 Beckett Collectibles Inc., All Rights Reserved
Powered by:

All orders are shipped in a minimum of a bubble mailer with a box for larger orders or orders with graded cards. All domestic orders are shipped with delivery confirmation.
Listings may have stock photos. If the title & the picture do not match. It is probably an error in the picture, PLEASE ASK BEFORE YOU BUY to make sure. If the card is serial numbered, it may no longer match the one pictured, as we have literally millions of cards. ASK before you buy if there are ANY questions.
We combine shipping. For normal sized/thickness cards, we ship up to 20 for the $3.50 fee. Odd-sized, thicker and graded cards may be more expensive.
Domestic S&H is $3.50 for first class mail
Graded or Uncirculated cards will be more to ship.
For International Buyers shipping starts at $15 for first class mail
Registered/Insured mail is required on international orders over $100 and starts at $50
We currently do not ship to Brazil, Italy, Philippines, Thailand, or Mexico.
<!--##BCILogoStart##-->
<!--##BCILogoEnd##-->