Shurhold Dual Action Polisher Pro [3500]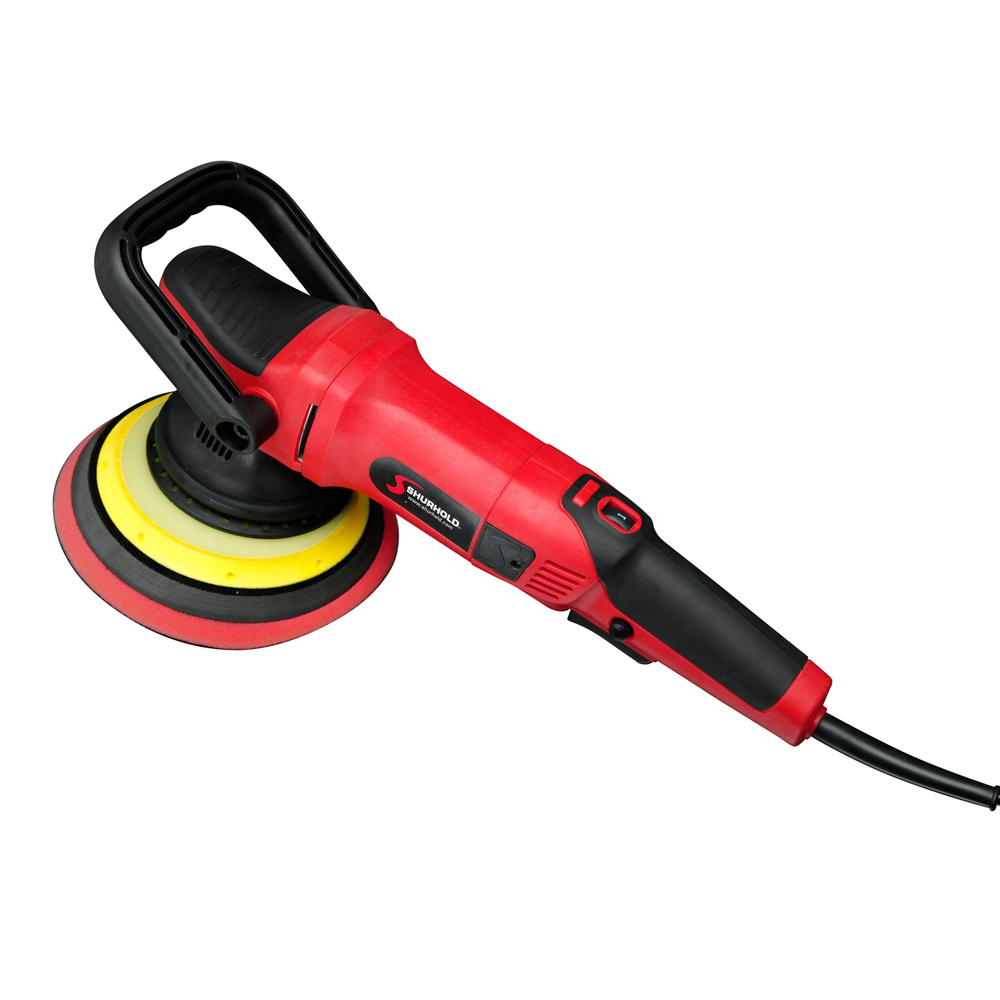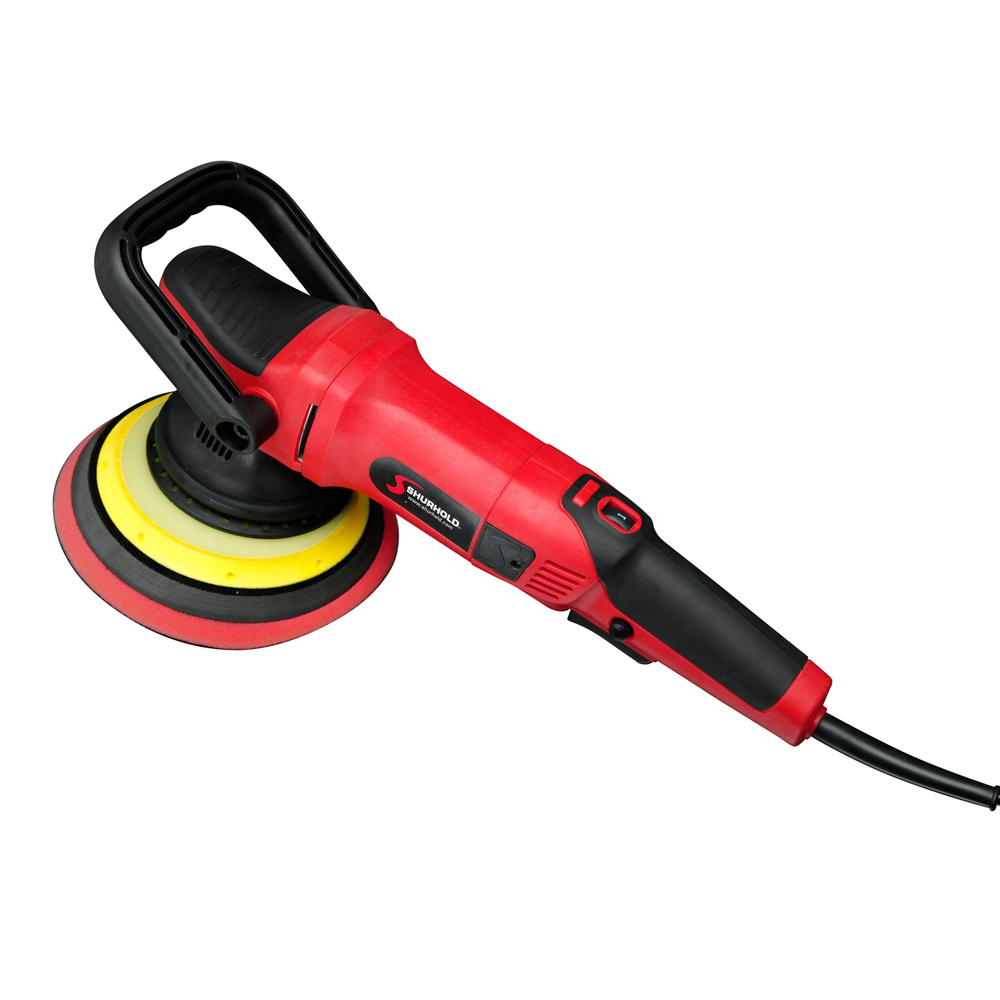 Product Description
Dual Action Polisher Pro
Professional Grade
Similar to the original Shurhold Dual Action Polisher, the Dual Action Polisher Pro features an XL, 21 mm Orbit. The increased Orbit and pad size make this a more powerful Polisher. The unique Dual Action motion will still protect your finish and give you the professional results you desire.
Features:
6" Quick Change Backing Plate
2 Different Ergonomic Gripping Styles
EZ Change Carbon Brush Ports
Thumb Controlled Variable Speed Dial
Locking ON Button
Detailed User Guide
Canvas Storage Bag
Specifications:
Rated Voltage: 120V AC
Frequency: 60Hz
Thread Size: 5/8"-11
Rated Current: 4.2 Amps
Quick Change Backing Plate Size: 6" (152mm)
Rated Power: 900W
Polishing Pad Size: 5.5"-6.5" (140-165mm)
Variable Speed: 1800-4800 RPM
Net Weight: 6.0lb (2.73kg)
Power Cord: 20' (6M) Heavy-Duty Cable
Quick Guide (pdf)
Payment
We accept the following forms of payment. PayPal Visa American Express Mastercard Discover PayPal E Check Please note that we ship based on date of payment cleared We reserve the right to cancel transactions based on any of the following *Billing and shipping address mismatch *Payment flagged *No confirmed or verified PayPal address We Take your security seriously so please communicate any special circumstances (vessel in transit, Marina shipping, visiting the USA etc...) We will do our best to help you! 732-719-2227.
Free Shipping, $25.99 (2 Day) and $29.99 (Next Day) offers are for the Lower 48 US States ONLY! AK, PR, HI and all non continental US territories will be charged shipping please contact us if you have questions 732-719-2227 Due to customs forms and other international considerations it may take 2 to 3 business days from the date of payment cleared for international orders to ship. International shipments may be subject to taxes or other forms of international tariff these charges are the responsibility of the buyer. If you are unsure of any charges please contact your taxing or customs authority.
Returns
To return an item for a refund or replacement, find the item in My eBay under Purchase History and select Return This Item from the more actions drop-down menu. Select the reason for the return. You must return the item within 5 business days of requesting the return in eBay. Products may be returned within 30 days of purchase The item must be returned in its original manufacturer's packaging and with all accompanying manuals and accessories. If defective, inoperable or missing parts please notify us immediately. *Software/electronics chart cards are non-refundable. For any questions on chart card compatibility PLEASE call customer support at 732-719-2227 prior to purchase. After 30 days all manufacturer's warranties are in effect. We stand behind everything we sell and if for some reason you are unhappy with your purchase please feel free to reach out to our customer support team at 732-719-2227, we are standing by to help!
We are an established US based business, with an online presence on ebay. We look forward to doing business with you on ebay.
You can contact us on normal working hours. If you have any queries, please contact us via ebay.
Store Categories
Abu Garcia
Accu-Steer
ACR Electronics
Aigean Networks
Airhead
AIRHEAD Watersports
Airmar
Ancor
ANDERSEN
Aquagard
Aqualuma LED Lighting
Argonaut
Attwood Marine
Atwood Mobile
Atwood Products
Aviva
B&G
Bad Elf
BARIGO
Barton Marine
Beckson Marine
Bennett Trim Tabs
BEP Marine
Big Jon Sports
Blue Sea Systems
Bluefin LED
Boat Leveler Co.
BoatBuckle
BoatSafe Heaters
Boss Audio
Bounty Hunter
Bracketron Inc
Bulldog
Bushnell
C-MAP
C-Map
C-Wave
C.E Smith Company
C.E. Smith
Caframo
Camco
Cannon
CargoBuckle
Case Logic
Charles
CLC Work Gear
Clipper
Clymer
Cobra Electronics
Cobra Wire & Cable
Coleman
ComNav Marine
Comrod
Contoure
CZone
Dallas Manufacturing Co.
Davis Instruments
DC Gold
DC GOLD AUDIO
Deeper Fishfinder
Digital Antenna
Digital Yacht
Dock Edge
Dometic Sanitation
Dorcy International
Dry Pak
DuraBrite
Edson Marine
Faria Beede Instruments
Fireboy-Xintex
First Watch
Fishing Hot Spots
Flir Systems
FLIR Systems
Flitz
Flojet
Floscan
FloScan
Fortress Marine Anchors
FSE Robline
Full Throttle
Fulton
Fulton Performance
Furrion
Furuno
Fusion
FUSION
Ganz Eco-Energy
Garmin
Gerber
Globalstar
GME
Golight
Green Marine Monitors
Guest
Gyration
Handi-Man
Hatteland-Display
HawkEye
Hobbs Corporation
HoseCoil
Humminbird
Hydro Glow
I2Systems Inc
Ice Eater by The Power House
Icom
iLive Electronics
Infinity
Inmarsat
Innovative Lighting
Intellian
Intellisteer
Iridium
Iris Innovations Ltd
Ironwood Pacific Outdoors
Jabsco
JBL
Jensen
JENSEN
Johnson Pump
Kent Sporting Goods
Kestrel
KING
KiwiGrip
Klein Tools
Kuuma Products
KVH
Kwik Tek
Lee's Tackle
Lenco Marine
Lopolight
Lowrance
Lumitec
Lunasea Lighting
Magma
Majestic Global USA
MarCum Technologies
Maretron
Marinco
Marine Audio
Mastervolt
Maxwell
McMurdo
Meguiar's
Midland Radio
Milennia
Minn Kota
Monarch Marine
Mothers Polish
MotorGuide
Mustang Survival
Nauticus
Navico
Navionics
Navisafe
NavPod
Nite Ize
Nobeltec
NOCO
NorChill
Norcold
NRG Marine
Ocean Signal
OceanLED
Octopus Autopilot Drives
Onyx Outdoor
Other
Pacific Aerials
Paneltronics
Pelican
Pelican ProGear
Pelican Storm Case
PENN
Pentax
Perko
Polk Audio
Poly-Planar
Polyform U.S.
Polyplanar
PowerFilm
Powermania
Powerwinch
Princeton Tec
Pro Series
ProMariner
PSS Shaft Seal
Pyle
Quick
R & D Marine
RAM Mounting Systems
Raritan
RAVE Sports
Raymarine
Reese
Rigid Industries
Ritchie
Rockford Fosgate
Rogue 4
ROLA
Ronstan
Rule
Rupp Marine
Safe-T-Alert
Scanpod
Scanstrut
Schmitt & Ongaro Marine
Scotty
SeaMaster Marine Products
SearocK
Seaview
SeaWorthy
Seloc
Sevylor
Shadow-Caster LED Lighting
Shakespeare
SHURFLO
Shurhold
SI-TEX
Simmons
Simrad
Simrad Fisheries
SkyRider
SmartPlug
SOG Specialty Knives & Tools
SOSpenders
Speco Tech
Sportsstuff
Sportsstuff Snow Sports
Standard Horizon
Stearns
StrikeMaster
SurfStow
Swobbit
TACO Metals
Tasco
Taylor Made
Tecnoseal
Teknetics
Tekonsha
Thermos
Thetford Marine
Tifosi Optics
Tigress
Timex
Tow Ready
Turning Point Propellers
UFlex USA
Uniden
VDO
Vesper Marine
Vetus
Vexilar
Wahoo Industries
WASPcam
Wave WiFi
Webasto
Weego
Weld Mount
Wesbar
Whale Marine
Whitecap
Wild River
Xantrex
Xtreme Heaters
Yukon Charlie's
Store Newsletter
Add our store to your Favorites to receive our email newsletters about new items & special promotions.
Sign up